Intimate Weddings at Prairieside
Small Intimate Weddings held @ 3:00 Everyday except Saturday
Includes use of the property with up to 20 people total for your ceremony & reception for between 2-4 hours, A 2-Night Stay in our Southern Mansion guest suite included.
You may provide your own clergy or we have resources available at an additional fee.
Food Services can be arranged.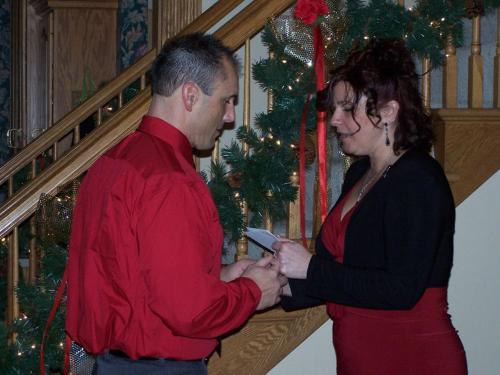 You may get married by our staircase with guests watching from our gathering room. Then use our dining room for a cake and punch reception. We'll provied the location, coffee or punch bowl service. You provide the cake, minister, photographer, Bride/Groom & up to 16 guests, [any guests over that are $15.00 per person]. This package is bookable online and has to include staying in our beautiful Southern Mansion Guest Suite.
Food Service
Options for catering your lunch or dinner. Minimum 8 guests.
If you would like more than a cake reception please refer to options below for meals, flowers, candles, etc.

$1,500.00
(Plus Food Service Charges Below)
Soda Service - $1.00/Can
Gourmet Cookies - $15.00/Dozen
Continental Breakfast - $10.00/Person
Muffins, Yogurt, Hard Boiled Eggs, Fruit, Juice, Coffee, Tea
Full Hot Breakfast - $15.00/Person
Fresh Fruit, muffins, hot entree, Juice & Coffee, Tea
Cold Lunch - $19.00/Person
Chicken Salad Croissant OR Ham & Cheese Bun with Macaroni Salad OR Chips, Pickle Spear & a Brownie
Hot Lunch - $19.00/Person
Pulled Pork on a Bun, Macaroni salad or Chips, Pickle Spear & a Dessert
Dinner - $30.00/Person
Poppy Seed Chicken, Buttered Egg Noodles, Vegetable, Roll/Butter, Dessert
Swiss Steak/Gravy, Mashed Potatoes, Corn, Roll/Butter, Dessert - $35.00/Person
Hors D'oeurvers - $40.00/Each
Cheese & Meat Tray with Crackers
Pickles, Olives. Cheese Ball with Crackers
Veggies & Dip tray
Additional catering services
Candles for Fireplace Mantle - $30
Flower Allowance - $100
Punch Bowl - $40.00
[already included with Weddings]
Includes Punch Mixture (7Up & White Grape Juice)
Use of Champagne Glasses - $30.00