Corporate Guest Rates
Our single occupancy corporate rates are bookable online @ $60 off Sun-Thurs.
We're the Perfect Mix of Business... AND PLEASURE!!!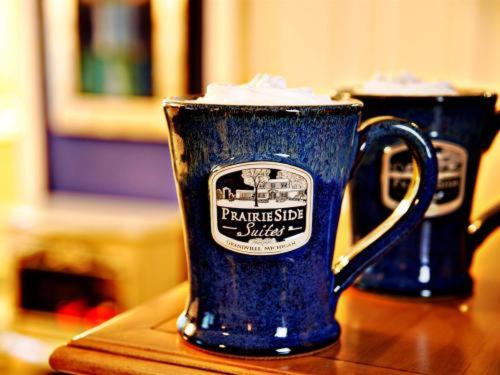 Corporate rates are bookable online @ $129.00 [single occupancy] Sun-Thurs. Available in our Southern Mansion, Spanish Hacienda & French Riviera.
Business travelers tell us they appreciate our spacious, beautifully designed guestrooms with modern amenities! The elegant decor, safe relaxed atmosphere, plus quiet convenient location – only 6 minutes from Grand Rapids & 2 minutes off the I96 expressway, make us a proven winner.
Timing is everything in business and schedules often change. For your convenience we'll pack a deluxe continental breakfast right in your own room refrigerator, so it's ready when you are [or a full breakfast @ 9:30 with other guests is available @ $12.50 per morning].
Cookies & baked goods are available night and day! You can stay anywhere, come EXPERIENCE Prairieside Suites...only minutes away from UPS, Post Office, Restaurants, and shopping. When booking your room check off your dates, click book, the next screen will offer all our packages. Select "Corporate Rate" [packages are in alphabetical order]. Under quantity enter how many nights you'll be staying with us.
Amenities
King Beds with 6 pillows and luxury linen's
Fireplace & Large Jacuzzi Tubs in all rooms
6 rooms have Jetted Showers
Private Baths with No Fog Mirrors
Free Wireless Internet & lot's of outlets
Meeting Rooms Available
Flat Screen TV, 100 channels of cable TV
DVD player with more than 300 Movies to watch
Heating & AC that you control
Remote-operated Ceiling Fan
Coffee Maker w/Coffee, Hot Cocoa & Tea in room
Refrigerator with Continental Breakfast in room
Microwave with Microwave Popcorn in Room
Safe Well-lit Building & close free Parking
Keyless Entry Code at Guest Entrance
Flexible Arrival/Departure Times
Heated Towel Bars & Heated Toilet Seats
Alarm Clocks, Hair Dryers
Luxury Linesn & Plush Comfy Robes in room
Iron & Ironing Boards in room
Privacy, Peace & Quiet, to get some work done