Prairieside Suites wins TripAdvisor for a 2nd Year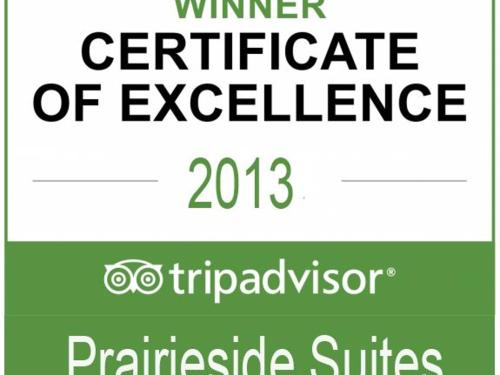 For the second year in a row, TripAdvisor has best bestowed a "Certificate of Excellence" on Prairieside Suites Luxury Bed and Breakfast. We're proud that our work and dedication to providing an amazing bed and breakfast experience has been recognized. We owe this honor to the wonderful guests who chose not only to stay with us, but then to spread the word by sharing such fabulous reviews with others on sites like TripAdvisor, Google+, Yelp, and others. Our goal is to always make sure that we have happy and satisfied guests. Knowing that we have given people great memories and moments to cherish with their loved one is a better feeling than any award could possibly serve. So we just wanted to say thank you to all of our guests over the past year for their continued support and kind words. Our plan is to keep striving for that level of excellence year after year. We hope you'll come visit us in 2014 so you can see how hard we're working towards a three-peat.
Below you'll see just a few of the wonderful reviews left by our guest in 2013.