Life Stages Floral Arranging by Cheri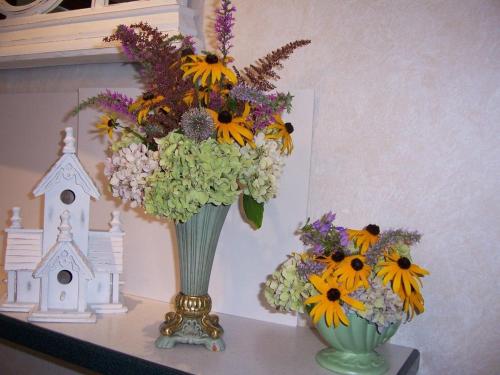 We sometimes miss out on the beauty of life by failing to see value in each of the phases and stages. I like to say that I'm always looking at the stage between a blooming flower and a dried flower to see what can be done with each. For example, hydrangeas start out pink or blue but then fade back to a green color over time. When they fade to green, that's your "clue" to prune those blooms from your plant so the energy is free to flow through and keep producing new blooms. But the green hydrangeas need not go to waste or be discarded! As you can see in this photo, I have found beautiful green vases with interesting shapes to showcase the fading hydrangeas as the foundation for these floral arrangements. Continuing on my path of making use of each life stage of the plant, I selected astilbes which were way past their bloom and had turned to a very brownish red.
Sometimes we're tempted to see things as only worthy of being discarded when they're past their prime, but consider how beautiful these are at this stage and how well they work for the arrangement! Finding uses for things others would throw away is one of my favorite things to do—and part of the resourcefulness that my family and friends frequently pointed out as one of my highest gifts. I've completed these arrangements by using my black-eyed susans at their peak for a burst of color. Then added in a purple globe flower and a little lythrum to perk the arrangement up and create contrast using the purple and yellow against the rich neutrality of the greens and browns. By making these arrangements, I've pruned the garden, used my old blooms and created something of beauty to enjoy inside as well! Now that's recycling and being green both at the same time! Right now is the perfect time for you garden lovers to come and enjoy our beautiful Prairieside Suites Luxury Bed and Breakfast gardens.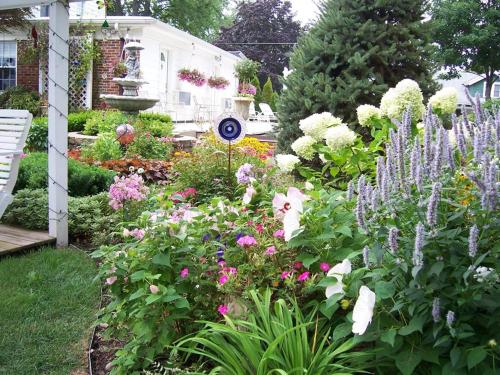 This picture shows my favorite garden view today! For the convenience of our guests, our wifi reaches into our gardens so that you can sit and check your email on the double glider swing or from one of our luxury guest suites, each designed after a different part of the world to delight and nurture you. Each room at our award winning "Michigan Bed and Breakfast" features a jacuzzi tub, all season fireplace, king bed and beverage center. We're only a short drive away from the spectacular Chihuly glass exhibit woven into the nearby Frederik Meijer Gardens & Sculpture Park! Dale Chihuly is the most sought-after artist in the world working primarily in glass. He is only exhibiting in about five cities this year, and Grand Rapids is one of them! This exhibit- his second for the city- includes his work being displayed in 15 sites, from the English Perennial Garden at the entryway to the Frey Boardwalk in the wetlands. Included are chandeliers, glass towers up to 30 feet high, floating spheres, reeds rising from the earth, the Sun, the Moon, and a rowboat full of glass. Come, experience my world! Cheri